---
When occupational therapists, engineers and designers come together for a special design project, they create new ways of working with wool to help those with disabilities.
A group of students in the USA is changing the way we think about fashion. Designing innovative and adaptive clothing for consumers with disabilities, the Open Style Lab program promotes the idea of universal and inclusive design, creating new products tailor made to specific client's needs and making style accessible to people of all abilities, through innovative design, research projects and exhibitions.
For the past two years The Woolmark Company has been providing assistance and support to Open Style Lab's ten-week program held at MIT International Design Center in Boston for designers, engineers and occupational therapists. By offering wool workshops and technical advice, as well as an introduction to Chinese manufacturer Nanshan who supplied the final fabric, The Woolmark Company was able to assist in the creation of SUITable, an adaptive sportscoat that is designed to be adjustable for continuous thermal comfort. The wool jacket features front flaps that easily open and close for added ventilation. There are also hidden pockets for convenience and accessibility.
SUITable was made in response to needs of Jim Wice, the Director of Disability Services at Wellesley College in Massachusetts. A spinal cord injury has affected Jim's ability to move and feel below his chest.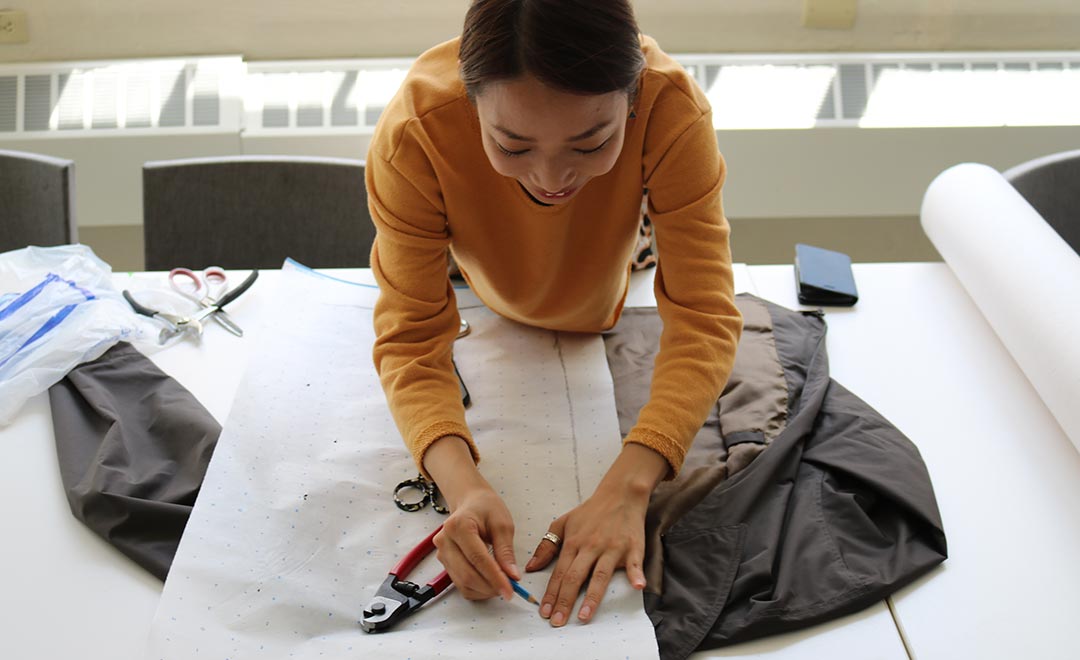 Designer Jeongsu Lee creating a pattern for the SUITable prototype at the Open Style Lab's facilities in Boston, USA.
Crafted with the use of laser cutting, the jacket embraces the natural properties of Merino wool, such as its ability to exhaust heat and humidity, and promotion of breathability. This year's team – comprising occupational therapist Amy Fleischer (Tufts University), engineer Logan Sweet (Olin College of Engineering), and designers Jeongsu Lee and Searom Jung (Samsung Art & Design Institute, South Korea), in collaboration with Wice – developed the product, using a temperature and humidity sensor to measure how well various laser-cut patterns retained heat and moisture so as to achieve the most efficient result.
"Open Style Lab has been conscientious of sustainability efforts and has strived to used natural fabrics when and if possible," explains Open Style Lab Executive Director Grace Jun. "Merino wool is among the highest quality of natural wool with softness that provides comfort. Comfort is a key theme that frequently comes across of our research and case studies and or the past two years, AWI has really helped our fellows and clients understand the possibilities and potential of wool, in particularly Merino."
SUITable co-creator Amy Fleischer said Mr Wice has specific thermal comfort and adjustability needs secondary to a spinal cord injury. "We feel that clothing for individuals like him ought to reflect more than the medical needs of this community. SUITable's increased adjustability allows our client to be more comfortable in a variety of settings and to continue living his life in style. Technical innovations in wool manufacturing have helped us to create a jacket that addresses his needs and promotes a look that is personally satisfying.
"As a fibre enthusiast (knitter), I have a strong affinity for working with wool. AWI's lecture was very enlightening and provided factual reasons to support my preference for natural fibres such as wool. AWI introduced wool as a performance fibre and explained its properties and benefits, such as the ability to manage moisture and help control temperature. These qualities stood out to our team as being highly relevant to the problems we aimed to solve with our garment. The MerinoPerform WP fabric was especially exciting for all of its technical innovations, as well as its clean surface, which would provide the polished, professional look our client wanted."
Open Style Lab's success has recently gathered the attention of The White House, where students were invited to take part in an inclusive fashion show. Three years and 60 solutions later, the program is now expanding into New York where is plans to grow inclusive design education and research, particularly at Parsons, where it currently offers an accredited course this Fall and coming Spring. Ms Jun also says they are currently in talks with fashion companies and manufacturers in New York City to commercialise their innovative products.