---
It's not every day a bespoke fashion and costume designer gets the opportunity to create a series of striking rugs and carpets for the home. Yet when Chinese custom carpet company Tai Ping Carpets collaborated with accomplished designer Han Feng to produce a wool-rich carpet collection, the results were quite extraordinary.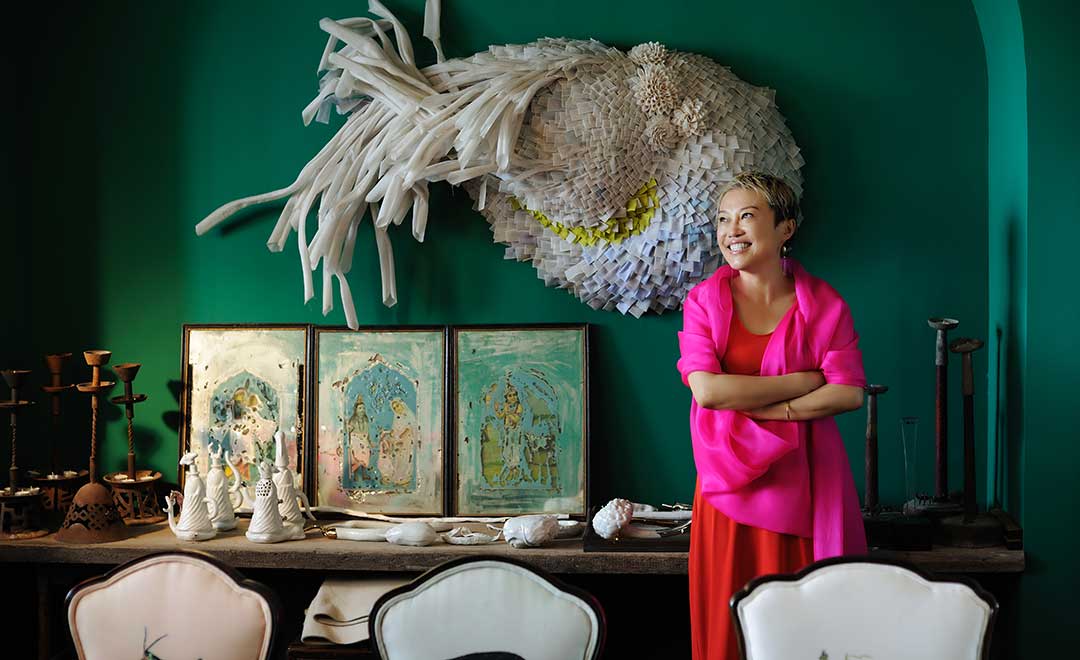 East meets West
Crafted in combinations of wool, silk, flax and lace, the 9 handmade, vibrant rugs in Tai Ping's Han Feng collection display a lyricism that gives movement and dimensionality to the inside of a home or commercial space. Drawing on the experience of Han Feng's two-decade long career, each piece recreates her signature aesthetics and couture techniques in a large-scale format, resulting in stunning trompe l'oeil and other abstract visual effects.
This unique wool-rich rug collection explores traditional mediums in a contemporary way, which perhaps is the harmonious balance of Han's upbringing in China yet having lived in New York for the past 30 years.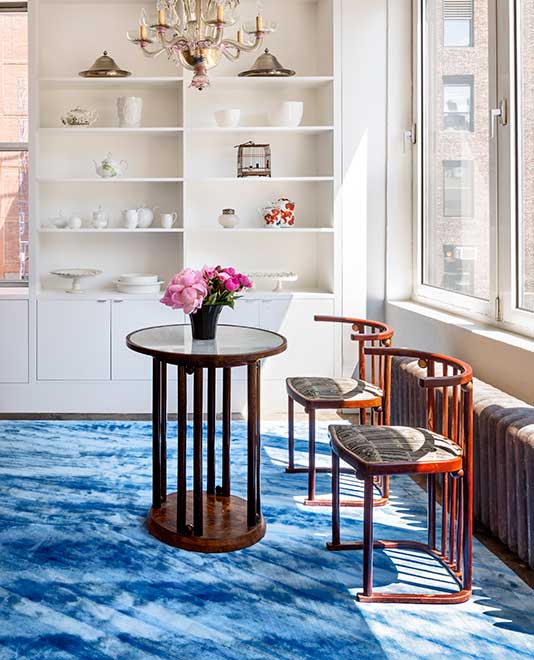 "Due to my life in the West, you naturally become this mix, you just feel it, and you don't really see it," she explains. "For the Tai Ping Han Feng collection, I didn't think too much about it, I just thought, let's just do something that fits the modern home, something contemporary, to break the mould from the tradition of old, antique rugs by using colour, warmth and playfulness."
And colourful they are. Wool's natural ability to be dyed a kaleidoscope of colours transferred perfectly to Han Feng's designs.
"The more colour tone you put into something like this, the more beautiful it gets. To achieve that on a rug, on that scale, to create this print-like, 3D and photographic effect, is no easy task. Some of the groups had a lot of colours that are very me, such as pink, red, dark red; the gradient between those shades. We also used a lot of beautiful blue and green tones."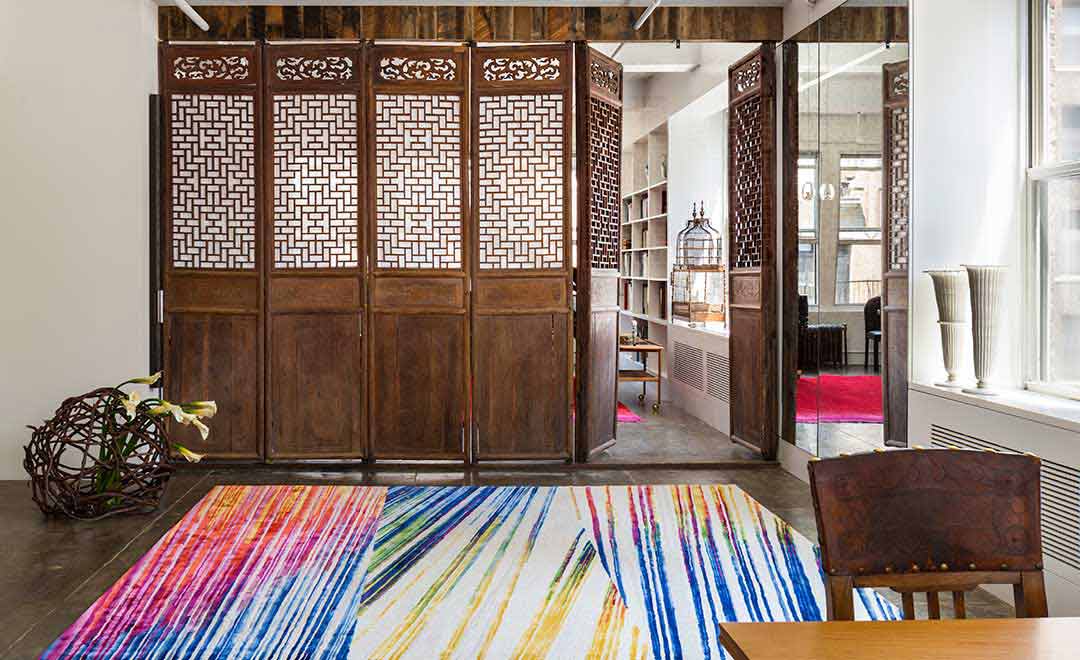 Designing rugs is not something Han Feng ever thought she would do. Yet, when presented with the unique opportunity she embraced it with open arms. Her vast experience as a fashion and costume designer allowed her to not only experiment with colour, but also with noble fibres, including wool, which she loves so much.
"When Tai Ping approached me to do this project, I was quite pleasantly surprised and curious. However, I was really excited - I was full of ideas from the very beginning. They then invited me to Foshan in Nanhai, China, to see their factory, what they're doing, what they've already done, what are the techniques and famous Tai Ping craftsmanship involved, such as hand-cut carpets, the beautiful yarns – it was truly impressive to see all the ladies on the floor cutting.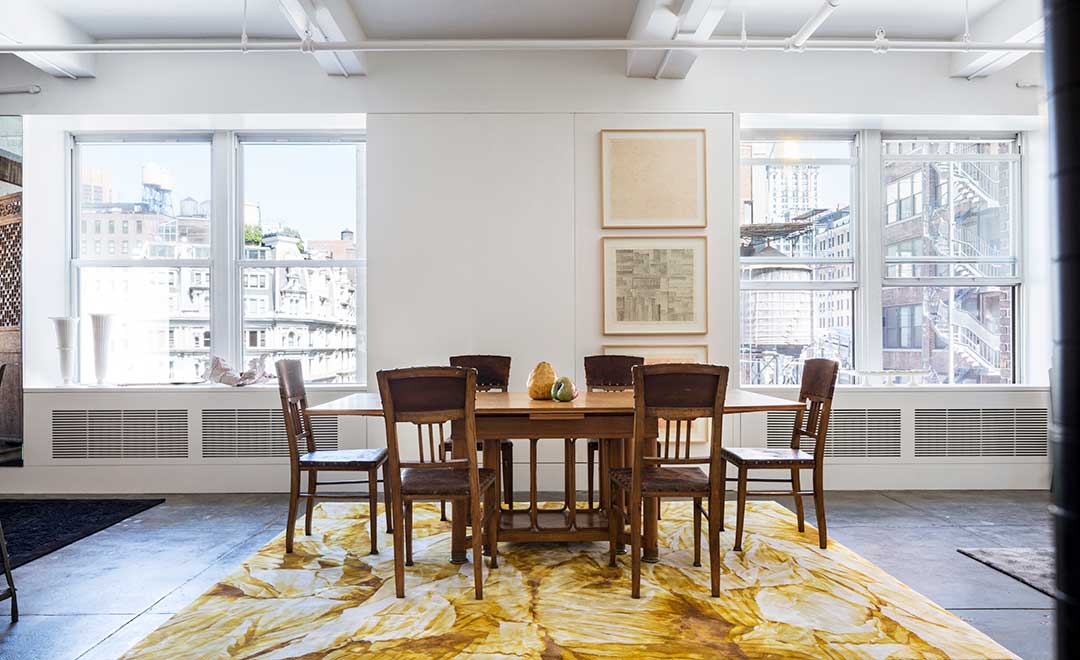 "Tai Ping photographed a lot of my scarves as part of the inspiration, so the rugs were derived from it. After that, the first swatch arrived; I wasn't sure it would look good, especially from what I could see. But Tai Ping reassured me and said 'trust us, it'll look good when it's big'. And they were right. In the end, I was truly shocked. When the rug arrived at my apartment and they placed my furniture on top of it, it looked amazing. And it's really incredible to see the difference between when they hang a carpet on a wall and when it's on the floor – the colour can really totally change."